Recently i got the question if in one Cloud Director Tenant (Organization) Granular Role Based Access Control and separation of rights can be configured between multiple teams within that Organization.
Details:
In our Test case Team-A is responsible for Org VDC A and can only manage and view the Edge GW resources (networks, Edge Gateways) within that VDC-Group. Team-B responsible for Org VDC B and can manage and view the all resources in all VDC-Groups, Except the Edge GW in Org VDC A. This Edge GW can only be managed by the Team-A.
Also because of some Tenant requirements the T0 (VRF) is also split between Internet and Customer specific. You can read more about this setup in an this post.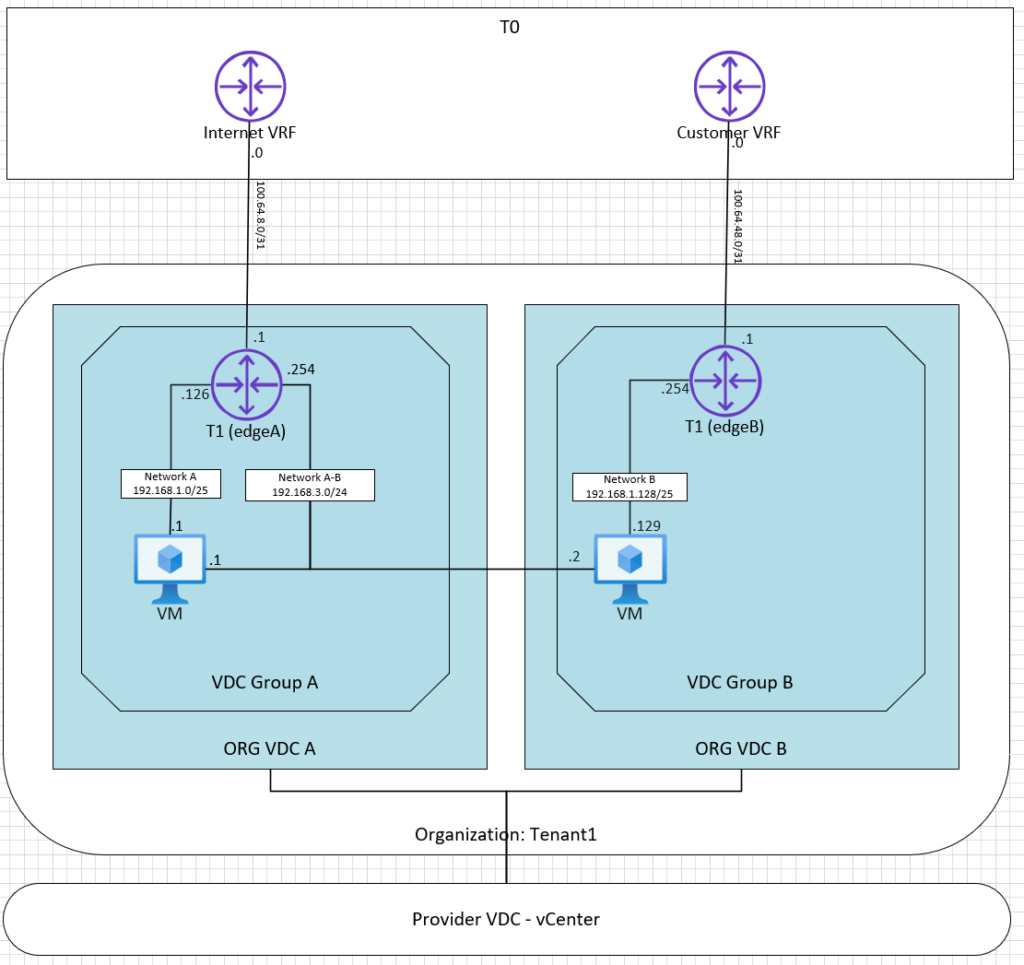 Requirements:
Separation of Rights between Org VDCs
Shared networks between Org VDCs
Team-A Can only manage the Edge GW in ORG VDC A
Team-B can manage all resources in both ORG VDCs except the Edge GW in ORG VDC A
Setup:
One Provider VDC (vCenter)
One Organization in Cloud Director (Tenant1)
Two Org VDC connected to the same Provider VDC (ORG VDC A & ORG VDC B)
Two Data Center Groups (VDC Group A & VDC Group B)
Two Edge GW (Edge A connected to VDC Groupp A & Edge B connected to VDC Group B)
Tenant Acces Role Team-A
Tenant Acces Role Team-B
Datacenter Groups
From version 10.2, VMware Cloud Director supports Data Center Group networking backed by NSX-T Data Center.
A Data Center Group acts as a Cross-VDC router that provides centralized networking administration, egress point configuration, and east-west traffic between all networks within the group.
Using Data Center Groups, we can share organization networks across various ORG VDCs. To do so we first group the virtual data centers, then create a VDC network that is scoped to the Data Center Group.
A data center group can contain between one and 16 virtual data centers that are configured to share multiple egress points.
We need to created 2 Data Center Groups and connect them to the participating VDC & Edges
VDC Group A -> ORG VDC A (24-2 in picture below) & Edge A
VDC Group B -> ORG VDC B (24 in picture below) & Edge B


Roles
By default, organization VDCs are shared with all users and groups that have a role which includes the Allow Access to All Organization VDCs right.
As an Organization Administrator, you can limit the access to each of the organization VDCs in your organization to specific users and groups.
Our organization has multiple organization VDCs and we want to have them managed separately, so create a custom role that would function as an organization VDC administrator and assign it to specific users or groups within your organization, providing them with access only to a specific VDC's compute and networking resources.
For Team-B we can use the predefined role Organization Administrator. In this role the following right is allowed: Allow Access to All Organization VDCs

This permission is exactly what is tells you it does, giving you permission to ALL Organizations VDC in the Organization. So with this role we are able to manage VM's, networks, etc in all the Organization VDC's.
Exactly what we need for Team-B.
For Team-A we need to make a new role with more granular permissions. Create a new role and exclude the Allow Access to All Organization VDCs right. Set the rest of the permissions to view and manage the Edges and Networks.
Publish both Roles to the Tenant and create 2 users in the Tenant.

Limit Access to ORG-VDC
Now we need to limit the access to the Org VDC, on the Virtual Data Center dashboard screen, click the card of the virtual data center that you want to limit access to.
Under Settings, click Sharing, The list of users and groups within the organization that have access to the VDC appears. To change the access settings to the organization VDC, click Edit.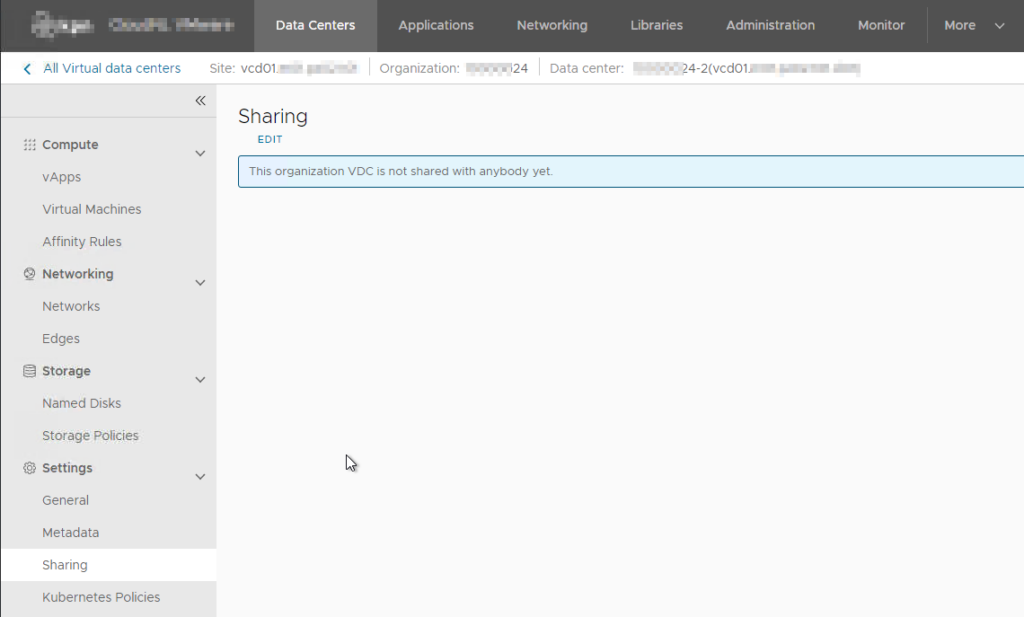 Select Specific Users and Groups, From the Users list, select the users that you want to provide with access to the VDC, same procedure if you are using groups.
So for ORG VDC A select Team-A, Team-B already has access to all ORG VDC because of the Allow Access to All Organization VDCs right.
To share the VDC with the selected users and groups, click Share.
At this moment Team-A can only view and manage Edges and Networks in ORG VDC A, and Team B can view and manage all resources in both ORG VDCs, also the Edge in ORG VDC A. if we need to get that sorted out we need to created roles and groups for every thinkable Resource set (Edge Admin, VM Admin, DFW Admin, etc) in every ORG VDC.
But another requirement in this Test Case is the Shared Network between ORG VDCs.
For this requirement it is needed to add the other VDC to the participating VDCs in the Data Center Group.

As soon as you configure this Team-A (which can only see the Edge-A in ORG VDC A), immediately can see the Edge-B under ORG VDC B. A no go in our case. The rights are distributed very horizontal. So as soon as you have multiple participating VDC in your Data Center group the team that was restricted to viewing and managing the resources in ORG VDC A, can now also view and manage the resources it is permitted to in ORG VDC B.
Conclusion
For this Test Case the outcome was negative as we needed shared networks between ORG VDCs.
If the sharing of networks is not needed, you set a very Granular RBAC model, but keep in mind when you set the Allow Access to All Organization VDCs right in a role, the users/groups that have this role are allowed to show all resources they are eligible to in All Organization VDCs